~Thank You~

to his mamma ~Shreve~for rescuing him.
Since he does not really really talk human yet, I told him I would help him say what he needed to say to her.
(We also tried to use "cactus" font in our letters
because Charlie said his mamma loves the flowers of the cactus
plants, but blogger did not let us)

Dear Mamma Shreve





When you look into my eyes I know what you will see.
There is only love and trust where fear once used to be.

For I was an abandoned animal a cold and hungry stray.
But you reached out your gentle hands
And took me home to stay.

I've eagerly accepted the compassion you have shown.
I soon forgot the times
When I was frightened and alone.



You opened up your heart to me
And taught me how to trust.
You've given me a loving home where kindness is a must.

So when you gaze into my face I hope you'll realize,
That "love without condition" is reflected in my eyes.



Thank You for rescuing me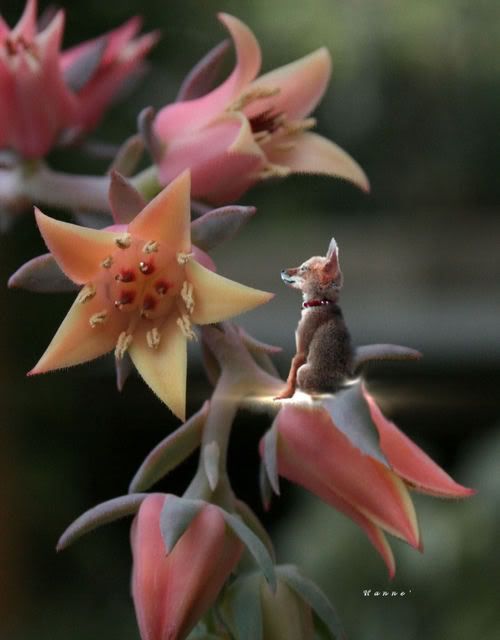 ~CHARLIE,YOUR LOVING AND GRATEFUL COYOTE~
p.s. In case you wonder, All the flowers used with Charlie are flowers
from cactus plants. We did not want to move Charlie too far out of his "environment,
and since he lives in Wyoming and
the only plant that flowers where he lives, The Cactus was perfect!
My mamma is in Awe
since the cactus is a rough and tough
rubber like plant, with very sharp thorns on it,
we are amazed that the Cactus gives birth to such
unbelievable beauty.
What a Beautiful Planet we live on ...