Hokay so these are work of art by
Susan Seddon-Boulet
Her work is a combination of eloquent and mystical imagery with a soulful quality that is as powerful as it is intangible.
( My mamma made me say that)
Much of Boulet's work from the 1970s pictures cheerful images from fairytale and fantasy-jesters, knights, mermaids, magicians, and the like-executed in rainbow-bright colors. Around 1980 Boulet produced 'I Heard the Owl Call my Name', the first in a series of paintings that pointed
to a new direction in Boulet's work. From this point on, Boulet painted images that she felt tapped into the essence of the collective human unconscious---images of goddesses from various cultures and

Native American shamanic images that married the forms of animal and human into a coherent whole

. Boulet drew the inspiration for her art from a wide variety of sources: mythology and poetry, Jungian psychology and worldwide spiritual traditions, as well as deep love of animals and the natural world.

So I know that Maggie and Mitch got a little freaked out by the
eyes...the eyes look like this when one "merges" for example
a "coyote and a Human"...

Check out these beautiful ice blues


Today Susan Seddon Boulet's paintings are held in collections around the world.
My mamma and I also Love her "Goddess" collection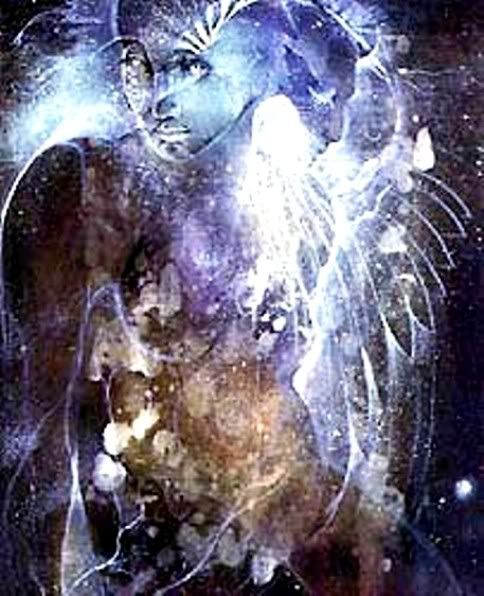 Oh and guess what...yesterday, mamma and I was out for a walkabout
in the woods..and what do we see...but a beautiful Coyote watching us with a smile on his face
from the edge of the forest...

It is raining here in New England today and about 63 degrees right now
and our

clamatis is in full bloom.....
Tailwags
Yours truly
Sir LoveAllMyFriends~Alot