Sure, it's called 'doga'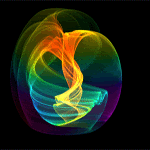 The classic yoga pose, downward facing dog, has taken on a whole new meaning.

Here is me, Sir Chance-Lot in the hip(upavishta konasana) pose.
Yoga for dogs, called "doga" or "ruff yoga," is gaining devotees across the country.
The trend started in New York, where humans and their canines attend classes to meditate and stretch together on mats. A dog who practices yoga is called a "dogi."
A new book by author Jennifer Brilliant, "Doga: Yoga for Dogs" (Chronicle Press, $14.95) includes 96 pages of bloodhounds, Jack Russell terriers and beagles in yoga positions called lion, cobra and warrior.
The dogs also demonstrate breathing exercises like fire breath, victorious breath and alternate nostril breathing.
At least one Pittsburgh area yoga teacher has practiced yoga with her dog. Leta Koontz, principal of Schoolhouse Yoga in Lawrenceville, trained her 80-pound golden retriever, Toby, to do yoga. (She cheated a bit by rewarding him with treats when he successfully completed a position.)
"He was eager to please," said Koontz. "He seemed to enjoy it."
She got the idea because Toby naturally stretched his spine and opened his chest after taking a nap. And when she did her breathing exercises, Toby would lie on her mat with her and try to lick her face.
A yoga teacher for eight years, Koontz believes yoga is calming for dogs and that it can help with range of motion.
She's not put off by the novelty of it. "Doga is a very new art," she said. "But yoga is constantly evolving. Yogis are always experimenting. And it's good for people to make a connection to animals."
She does believe that the therapeutic effects of yoga with dogs is limited to the physical. "It's hard for a dog to be mindful. Because dogs don't understand English, you can't lead them through a guided meditation."
The scientific effect of yoga on dogs is unproven. The National Center for Complementary and Alternative Medicine at the National Institutes of Health does not support any research on yoga and companion animals.
Still, the trend is growing.
Ruth Rittenhouse, a yoga teacher with the Himalayan Institute in Mt. Lebanon, held a yoga for dogs workshop last year to benefit the Animal Rescue league.
"The workshops were very successful," says Rittenhouse.
Yamuna Devi, owner of Three Rivers Yoga Institute in Coraopolis, also noticed that dogs are naturally attracted to yoga.
Her dog, Chai, serves as class greeter in her classes. Chai had been abused and was emaciated when Devi adopted him from a local shelter, so the dog had trouble relaxing.
"We've noticed it makes a difference for her to be in that environment. It's calming and soothing," says Devi.
A few months ago, Chai began chanting with the students, making a sound like a happy moaning.
Devi believes it is OK to encourage a dog's natural stretch into yoga poses like downward-facing dog. But she is dubious about the idea of placing them in actual postures.