and a sick mamma ( she has some human sniffle thing, and she coughs all the time even when she sleeps, and then she sounds like a donkey..all croupy and wakes everyone up.)
And then everyone doesn't get enough sleep and has eyes like this in the morning




I have not been able to go for my walks in the woods. And lets me tell you, Golden's like myself, well we have so much energy, that if we don't get our walks, we start chasing our tails, and run into things and cause trouble. Thankfully, a while back, after mamma had complained alot about not fitting into her pants, cause she loves potato chips too much ( Don't ask I have NO clue what that means), my big pappa went out and came home with a treadmill...I know now you are really confused right, me too!!!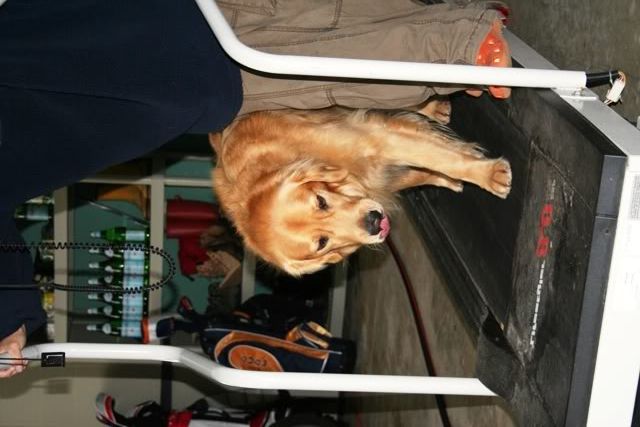 What potato chips, not fitting into clothes and treadmills, have to do with each other is beyond me, but I can tell you this, it works great for rainy days and when you have a sick mamma, to relieve the "crazies" we dogs feel when we don't get our walks.
What...you don't know what a treadmill is....well, it is a "standstill" walk...I know Im not sure my self..but I got on it yesterday to check it out, and it sort of walked ME!!!!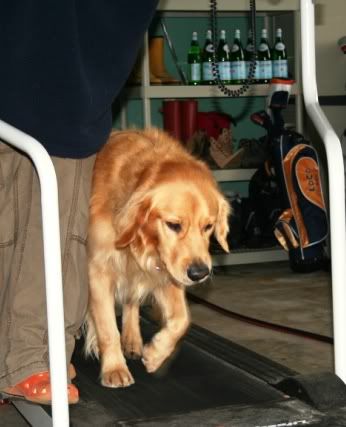 And the funny thing is..you walk and walk and walk, and get NOWHERE..hehe.
It is raning here again today and mamma is still pretending to be a donkey, so I will probably go for a walk to Nowhere again today!
I am sad that noone has posted the "around the neighborhood" tag, but maybe you have all been busy, and not had time?
Golden Hugs
Sir Chancelot